Common Questions - Drivers and Motor Vehicles
Be advised that the answers provided here to frequently asked questions cover basic situations and, depending on the circumstances, cannot be applied to all situations.
Click on a below question to see its answer.
Note: Effective January 14, 2009, registry agents will retain a copy of all vehicle ownership documents at the time of applicable vehicle services. This includes the vehicle Certificate of Origin. As well, the original New Vehicle Information Statement (NVIS) and the Transport Canada Vehicle Import Form (Form 1) must be surrendered at the time of registration.
Where do I go for motor vehicle services?
You may visit any one of the private registry agent locations throughout the province who provide the motor vehicle services.
Canada Post has changed my address and/or postal code. I know I need to update this information on my driver's licence and registration, but will I be charged a fee for that?
No. Regulation changes that came into effect on July 17, 2006 allow you to change the address information on your driver's licence and/or vehicle registration free of charge as long as the change was mandated by some authority (e.g., Canada Post, municipal government) and you have not physically moved to another residence. You must provide the letter from Canada Post informing you of the change as proof.
What are the fees for motor vehicle services?
I see the term "highway" used with respect to the operation of motor vehicles. What does it mean?
The term "highway" means any thoroughfare, street, road, trail, avenue, parkway, driveway, viaduct, lane, alley, square, bridge, causeway, trestleway or other place or any part of any of them, whether publicly or privately owned, that the public is ordinarily entitled or permitted to use for the passage or parking of vehicles and includes:
A sidewalk, including a boulevard adjacent to the sidewalk


If a ditch lies adjacent to and parallel with the roadway, the ditch


If a highway right of way is contained between fences or between a fence and one side of the roadway, all the land between the fences, or all the land between the fence and the edge of the roadway, as the case may be
How do I change my name on my drivers licence or vehicle registration?
There are three types of name changes: a legal name change, an assumed name change through marriage and reverting to a birth (maiden) name.
For a legal name change, you must apply to Vital Statistics. Once approved, you will be issued a 'Legal Change of Name' certificate that you will need to present to a registry agent.
For an assumed name due to marriage, you will need to present your original marriage certificate to the registry agent.
To revert back to a maiden name, you will need to present your marriage certificate or divorce decree in addition to your birth certificate.
To avoid the change of name/address fees, you may have the option to renew your drivers licence early. If this option is chosen, the normal renewal fees are charged and the change of name and/or address is included at no extra charge. Please discuss this option with your registry agent to see if you are eligible.
The Operator Licensing and Vehicle Control Regulation of the Alberta Traffic Safety Act requires that if a person changes their name, address or postal address, they must make application within 14 days of the change to have a new licence issued. For a legal name change, this would be 14 days from the time you receive your legal name change certificate. For assumed names, since the use of these names are optional, this would be 14 days from the time you start using the assumed name.
Do I need the renewal form that I received in the mail in order to renew my driver's licence and vehicle registration?
No, you are not required to present the renewal form if you don't have it. Simply present your existing photo licence and / or registration along with your insurance to a registry agent and pay the required fee. If non-photo licence is presented, two other forms of identification are required.
My children are not residents of Alberta but are attending school full time in Alberta. Do they have to register their vehicles and change their operator licences in Alberta?
No. Provided they are full time students and the vehicle is registered in their home jurisdiction in their name.
I live in another province, but I am working here as part of a co-op program. Do I need to get an Alberta driver's licence and/or vehicle registration?
No. The rules for co-op program participants are the same as those for full time students. You may use the valid licence and registration from your home jurisdiction, as long as you also have valid insurance and the registration is in your name.
I just moved to Alberta from Manitoba. Can I continue to use my Manitoba driver's licence and registration?
Only for 90 days. From the day you move to Alberta, you have 90 days to exchange your licence for an Alberta one and to register your non-commercial vehicle in this province.
I live in Saskatchewan but I work in Alberta. Do I have to get an Alberta driver's licence and registration?
If your province of residence is not in Alberta, you can continue to use your valid licence from your home jurisdiction. Vehicle registration depends on how much time your vehicle is driven in Alberta. Provided you have valid insurance and your vehicle is not a commercial vehicle, you may also continue to use your valid home jurisdiction vehicle registration and valid insurance for a maximum of 183 days in a calendar year. If your vehicle is operated in Alberta for more than 183 days in the year you must register your vehicle with Alberta plates and registration. The time does not have to be consecutive. For example, if you operated your vehicle in Alberta from January to July (7 months) your vehicle would need to be registered in Alberta and insured by an Alberta licensed insurance company. Another example is if you operated your vehicle in Alberta from January to March (3 months) and again in May (1 month) and again from October to December (3 months), that would be a total of 7 months and your vehicle would need to be registered in Alberta and insured by an Alberta licensed insurance company. In summary, whatever province your vehicle is operated in the majority of the year would be the jurisdiction that it would need to be registered and insured in.
I live in one of the U.S. states, but I'm coming to Alberta for an extended vacation. Can I use my state driver's licence and registration while I'm in Alberta?
Yes. Visitors to Alberta may use their valid licence, registration and plates (with valid insurance) from their home jurisdiction as long as they have a legitimate residence there and do not take up residency in Alberta. However, they must obtain Alberta registration if their vehicle has been located in Alberta past 183 days.
I will be out of the province on vacation when my drivers licence expires, what should I do?
You do not have to wait until the expiry date of your licence before you renew it. Anyone may renew their licence up to a year prior to the actual expiry date.
Do I need a medical report to renew my driver's licence?
A medical report is required when applying for or renewing a class 1, 2 or 4 licence. In addition, if you have a condition code C (periodic satisfactory medical report) or code D (periodic vision report) on your licence, or if you have a medical condition that may affect your driving ability, you must submit a medical report. If you are 75 years of age or older you will be required to submit a medical report and provide a vision screening.
At what age can a person obtain a learner's licence?
In Alberta, an individual must be at least 14 years of age to apply for a learner's licence with parental consent (pdf) if under 18.
I don't live in Alberta, but I spend a lot of time here. Am I eligible for an Alberta driver's licence?
No. Alberta licences can only be issued to residents of Alberta. A resident of Alberta is a person who is lawfully entitled to be in Canada and who makes their home in, and is ordinarily present in, Alberta. Registry agents require proof of residency before they will issue a driver's licence.
What do I need to do to register my vehicle?
To register a vehicle, you will require proof of ownership (such as a bill of sale, lease agreement), proof of valid insurance and two pieces of identification. If the vehicle is new, you will also require a new vehicle information statement (NVIS); if the vehicle was imported into Canada, you will require a Vehicle Import Form from Transport Canada. Used Vehicles previously registered outside of the province require a safety inspection. Please refer to
Registering a Vehicle or Trailer
section for more details.
Is there a place where I can check whether a vehicle is stolen?
Yes. The Canadian Police Information Centre (CPIC) website allows the public to check the 'stolen' status of a vehicle using either a vehicle identification number (VIN) or a licence plate. The vehicle records in this database are updated every day and the property files are updated every Tuesday morning. It is important to note that even if you get a positive response to your search, it does not necessarily mean the item is stolen.
If you do get a positive response, the item's status should then be confirmed with your local police." Access the Canadian Police Information Centre website (external site).
Does Alberta intend to offer other specialty or commemorative plates other than the veterans or support our troops licence plates?
Suggestions for specialized licence plates programs, for specific professions, medical research groups and a host of other specialty groups and organizations, have been raised in Alberta from time to time over the past few years. In response, the Alberta Government studied the feasibility of introducing specialty licence plates by reviewing similar programs in Canada and the United States. The result; these programs are very costly to set up and administer.
These types of plates also make it difficult for law enforcement officials to easily determine a plate's jurisdiction of origin or legitimacy. For these reasons, Alberta has opted not to add any new specialty plates at this time. However, should one of the specialty groups choose to produce their own, the front licence plate area on a vehicle would be ideal to show these as Alberta law currently only requires the use of a rear plate.
What is a miniature vehicle and can they be registered?
Miniature vehicles (some examples shown below) cannot be registered and cannot be operated on any highway in Alberta. They may be operated on private property only. A miniature vehicle includes, but is not limited to, a go cart, a 3 or 4 wheeled vehicle (including off-highway vehicles) of less than standard size.
A motorcycle or moped is considered a miniature vehicle if:
It has a seat height of less than 70 centimeters when there is no load


A wheel rim diameter of less than 25 centimeters


A wheel base of less than 100 centimeters when measured from the centre of one axel to the centre of the other axel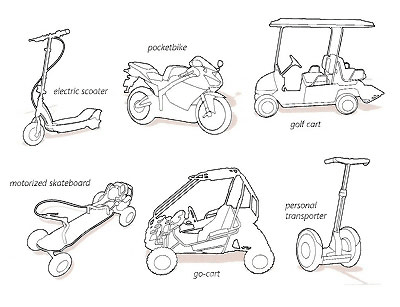 What vehicles can be registered as off-highway?
Section 117 of the Traffic Safety Act defines an off-highway vehicle as:
"off-highway vehicle" means any motorized mode of transportation built for cross-country travel on land, water, snow, ice or marsh or swamp land or on other natural terrain and, without limiting the generality of the foregoing, includes, when specifically designed for such travel,
(i) 4-wheel drive vehicles,
(ii) low pressure tire vehicles,
(iii) motor cycles and related 2-wheel vehicles,
(iv) amphibious machines,
(v) all terrain vehicles,
(vi) miniature motor vehicles,
(vii) snow vehicles,
(viii) minibikes, and
(ix) any other means of transportation that is propelled by any power other than muscular power or wind,

but does not include:

(x) motor boats, or
(xi) any other vehicle exempted from being an off-highway vehicle by regulation;
"vehicle" means a device in, on or by which a person or thing may be transported or drawn and includes a combination of vehicles but does not include a mobility aid.
What are the differences between holding the class 5GDL and a full class 5 licence? Specifically, what are the restrictions?
The main differences are:
A lower demerit point allowance, 8 versus 15. If an individual is a careful, law-abiding driver and does not receive traffic tickets (i.e. speeding, etc.), then the demerit totals are not an issue since demerits are only deducted when you are caught breaking the law.


Zero alcohol tolerance. Zero alcohol tolerance means that you cannot drive with any amount of alcohol in your blood stream, whereas a full class 5 can operate a vehicle as long as they are under the legal limit of alcohol concentration in the blood. So, if an individual never drinks and drives, the zero alcohol tolerance is also not an issue.


The other restrictions are minor: You cannot be the accompanying (supervising) driver to an individual driving with a class 7 (learners) licence. You cannot upgrade to a professional class licence (drive a semi, ambulance, taxi or large three-axel vehicle). If you drive only regular passenger vehicles (two axels), such as a car, truck, minivan, SUV, etc., then this is also not an issue for you.

So the bottom line is, if you are a safe and law-abiding driver, the class 5GDL licence will serve you just as well as a full class 5 drivers licence.
If I have a 5GDL licence, am I restricted from driving at certain times or not allowed to carry passengers?
No, there is no time of day restriction or passenger restrictions. The learner licence (class 7) is subject to the time of day restriction (no driving between midnight and 5 AM) - but not the 5GDL. You may also carry as many passengers as you have seat belts. If your car has 4 seat belts, you can have a total of 4 people in the vehicle. If it has 5, then you may have 5, and so on.

I'm coming from another jurisdiction that doesn't have a GDL program or a program where the driving time requirements are lower than Alberta's required 1 year for learners and 2 years for probationary. Will I be issued a full class 5 Alberta licence?
No. Alberta law requires that you have the required amount of driving time. If you do not, you will be placed in the GDL program even if your other jurisdiction licence was a full class 5.
If I'm coming from a country that does not have a reciprocal agreement with Alberta, what do I have to do to get an Alberta licence? How is GDL assessed?
Can I get copies of the driver handbooks and other information on-line or do I have to go to a registry agent office in-person?
Yes. You can find the driver handbooks, sample knowledge tests, coaching new drivers handbooks, detailed Graduated Driver Licensing information and a whole range of other useful and interesting information on the
Traffic Safety in Alberta
website (external site).